New York City is well known for being a foodie destination, with new restaurants and dessert shops popping up what feels like every other day. With so many spots to choose from, I have created a guide to the most Instagram worthy desserts in NYC - sure to satisfy any sweet tooth! #NYC #foodie #travel #NYCfood #desserts And, as New York City is ranked as one of the most expensive cities in the United States, visiting NYC on a budget can add even more anxiety to the planning process. No need to fret! Our New York City itinerary is packed with everything your need for your trip to NYC!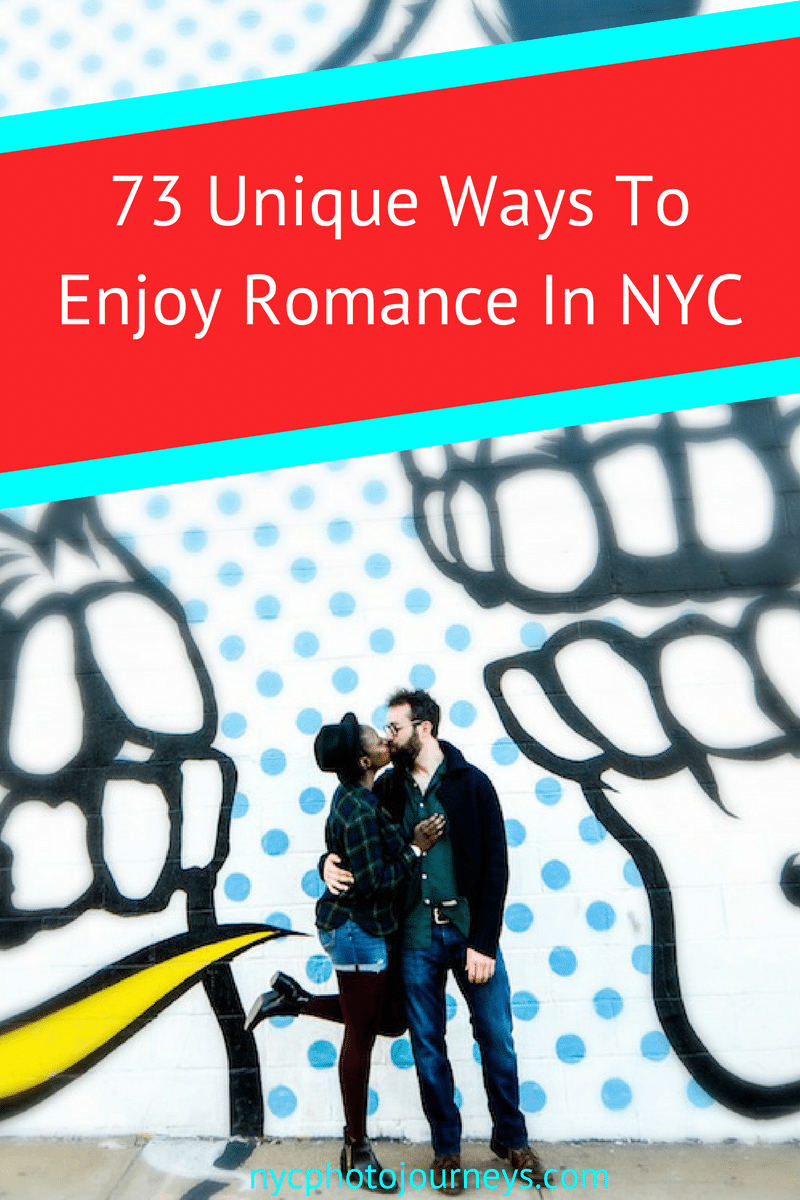 On the lookout for romantic restaurants in NYC for the month of February? I've got just the thing for you! I'll make sure you or your boo will not burn a hole in your wallet. Romantic Restaurants in NYC That Are Easy On The Budget I'll admit, romantic restaurants in NYC can be pricey.
Actually, now that I think about it, the prices of romantic restaurants in general, are known to be quite intimidating, what with the candlelit dinners, cozy atmospheres, and at times three digit — yikes!! But what if I said that you and your partner can breathe a sigh of relief during the upcoming month of love?
What if I told you that I found gems of restaurants that are both romantic and affordable at just $20-30 an entree? Yes, ladies, I'm not joking with you. Keep on reading to find out what some of my favorite finds are! 1. Milk and Roses image via Ah, what's not to love about Milk and Roses? You have the option of sitting inside the cozy and dimly-lit cafe surrounded by books, or if you're like me, you can have a table in the gorgeous backyard and greenhouse area.
Did you know that Milk and Roses is one of the most romantic restaurants in NYC that at times people would book the entire restaurant as a wedding venue? 2. Olio e Piu image via Sometimes a girl just can't say no to carbs!
Olio e Piu specializes in serving some of the best pizza and pasta of New York. Did I mention that the pasta is made fresh? Ladies, trust me when I say that once you've tasted fresh pasta, you'll never look at store bought pasta the same ever again. 3. Cha An image via Are you and your boo crazy about all things green tea? Then head over to Cha An! It's a serene little tea house that specializes in all things matcha.
They even have affordable lunch set meals that will help you stretch out your dollar. If you choose to visit Cha An next month, do yourself a favor and don't leave without getting dessert.
You'll definitely thank yourself after for the wise decision! 4. Uva image via I fell in love the first time I set foot in Uva because of its rustic charm and intimate atmosphere.
It definitely struck me as one of the most romantic restaurants in NYC — it had all the makings for a great date night.
One of the most loved appetizers is the sheep's ricotta cheese drizzled with black truffle honey. If that alone doesn't make you lick your lips, wait until you try their truffle gnocchi. It'll rock your socks off! A post shared by (@youresoprettydotcom) on Jan 22, 2017 at 8:43pm PST 5. Joe Allen image via Joe Allen is a stone's throw away from New York's Theatre District, which makes it a great place to stop by before or after watching a show.
If you're lucky, you might even see or rub elbows with famous directors, producers, and actors inside. 6. Merchants River House image via Loads of couples have fallen in love with the Merchants River House because of its impeccable view of the Hudson River.
I'd say that this is actually one of the best places to watch the sunset during the summer. You can bet that this restaurant will be up to their neck in reservations come February, so don't forget to call in early to book a table in advance.
7. Shake Shack in Madison Square Garden image via Shake Shack is one of my favorite burger joints, ever. EVER. Whenever I get the chance to swing by New York, I make it a point to drop by the branch in Madison Square Garden at night.
I'm such a sucker for lights and the string bulbs they've hung above the seats have just won me over completely.
I've got to say, the Shake Shack in Madison Square Garden has to be one of the most affordable and romantic restaurants in NYC I've ever had to date. Looking for more date night ideas in NYC? Check out this video from Kayla Mochi. Ladies, date night doesn't have to be expensive. It's all about eating good food, making new memories, and having the best company because you're with someone you love.
If you really want to save on cash, you could even try whipping up . Not only will you get to sharpen your kitchen skills and , but you'd also have a chance to show your partner just how much heart you've put into making the date perfect. I'm sure he'd love you even more for it. Are you and your partner relationship goals? Follow us on , , , and ! Copyright © 2018 · You're So Pretty This copyrighted material may not be republished without express permission.
The information presented here is for general educational purposes only. MATERIAL CONNECTION DISCLOSURE: You should assume that this website has an affiliate relationship and/or another material connection to the persons or businesses mentioned in or linked to from this page and may receive commissions from purchases you make on subsequent web sites. You should not rely solely on information contained in this email to evaluate the product or service being endorsed. Always exercise due diligence before purchasing any product or service.
This website contains advertisements.
best romantic restaurants in nyc on a budget - Romantic Restaurants and Bars in New York


Romantic Restaurants and Bars in New York • Preparation • • • • • • • • • Accommodation • • • • Transfer • Transfers • • • • • • • • • • • • • • Transportation in New York • • • • • • • • Sports • Matches • • • • • • • • • • • • • • • • • Sports • • • • • • • • • • Things to do • Tours & Attractions • • • • • • • • • • • Nightlife and shopping • • • • • • • • Top Attractions • • • • • • • • • • • • • • • • • • • • • • Dining • • • • • • • • • • • Deals • • • • • • Preparation • • • • • • • • • Accommodation • • • • Transfer • Transfers • • • • • • • • • • • • • • Transportation in New York • • • • • • • • Sports • Matches • • • • • • • • • • • • • • • • • Sports • • • • • • • • • • Things to do • Tours & Attractions • • • • • • • • • • • Nightlife and shopping • • • • • • • • Top Attractions • • • • • • • • • • • • • • • • • • • • • • Dining • • • • • • • • • • • Deals • • • • • Take your partner to one of the romantic restaurants or bars in New York for Valentine's Day, or any other special occasion.
There are many restaurants where you can enjoy a romantic night out. There are also a number of great dinner cruises that will surely win you some points.
Afterwards you can wind down for the rest of the night in one of the hip bars in New York. In short, enough romantic things to do in New York! Romantic Dinner Cruises in New York One of the best things to do is to take your partner on a dinner cruise. You can enjoy each other and the beautiful views of New York City. There is good food and drinks too! The is perfect option for Valentine's Day itself. For any other occasion I'd choose the which is one of the most beautiful boats. But this romantic is a great alternative.
Romantic Restaurants in New York Gigino A great place to go to impress your partner is the restaurant in the Wagner Park close to Battery Park overlooking the Hudson River. It's an Italian restaurant with a great view of the Statue of Liberty with very friendly staff.
If you want something a little different to the menu, feel free to ask as the chef is very accommodating. Philipe Marie on 11th and Hudson Street is one of my favourites. The restaurant has a good price-quality ratio. What's great about this restaurant is that you can book a private room.
You'll get a table in the old fashioned rustic wine cellar completely alone with your partner. It's a bit pricey, but you can't get much more romantic than that! Artisanal Bistro Artisanal Bistro on Park Avenue is known for their cheese fondue. The restaurant has a really romantic New York City atmosphere, despite having a bit of an upscale style. There is a special Valentine's Day menu created and you can opt for their excellent wine menu. Not recommended for those on a budget. Balthazar on Spring Street is always a great restaurant to go to.There is a pretty good chance of celebrity sighting too, and despite the busy French bistro feel, it is still cozy and romantic.
The food makes the pricey menu worth it. This is definitely a restaurant for Valentine's Day for a younger crowd. Candle 79 on 154 East 79th Street is also a great place to go out for dinner with your partner.
It's a vegan organic restaurant on the Upper East Side. The atmosphere is great and there are plenty of dishes to choose created with local and seasonal ingredients. Daniel Boulud is also another great chef with many top restaurants in New York. Daniel on East 65th Street is the best. If you want to go all out to impress your date, then this is the place in New York to take them to.
With the most impressive decor in a classy restaurant, the French food will blow you away, but only if you can afford it. August When you want to do romantic in a casual way, there is a small, but charming restaurant in the Upper East Side called . The food is definitely good, but most people go there for the chic atmosphere.
The restaurant offers pan-European cuisine with a romantic garden and wood-fired oven which certainly sets the right mood. Cocotte This cosy restaurant in SoHo is a perfect place for those who love the typical French and Mediterranean cuisine with a twist. The friendly staff will tell you all about their French and Spanish specialties such as gazpacho, delicious cured meats, duck terrine and great European wines. Since is open from 12:00 p.m. to 12:00 a.m., you can have lunch or dinner (a perfect restaurant for date night!).
Or enjoy a lazy brunch during the weekend. Their two course pre fixe lunch menu is very popular. Romantic Bars in New York Ascent Lounge in the Time Warner Center is a romantic and sexy place to hang out. The views help set the romantic tone when celebrating any special moment, like an anniversary. On Valentine's Day, the lounge features special cocktails and small bites from a menu created just for the occasion.
Hudson Library Bar Hudson Library Bar in midtown is definitely a recommendation for those on the younger side. Set in the incredibly hip and hot hotel called Hudson New York, this is a hotel that has some of the best hang-outs for those forty and younger.
On Valentine's Day, take your date to the library bar to relax romantically on the big leather couches. Royalton Park Avenue Royalton Park Avenue (formerly known as Gansevoort Park Avenue) is a great place to go after some quiet dining.
There is a rooftop bar on Park Avenue, complete with a swimming pool. It's perfect to chill out on one of the couches when winding down at the end of the night.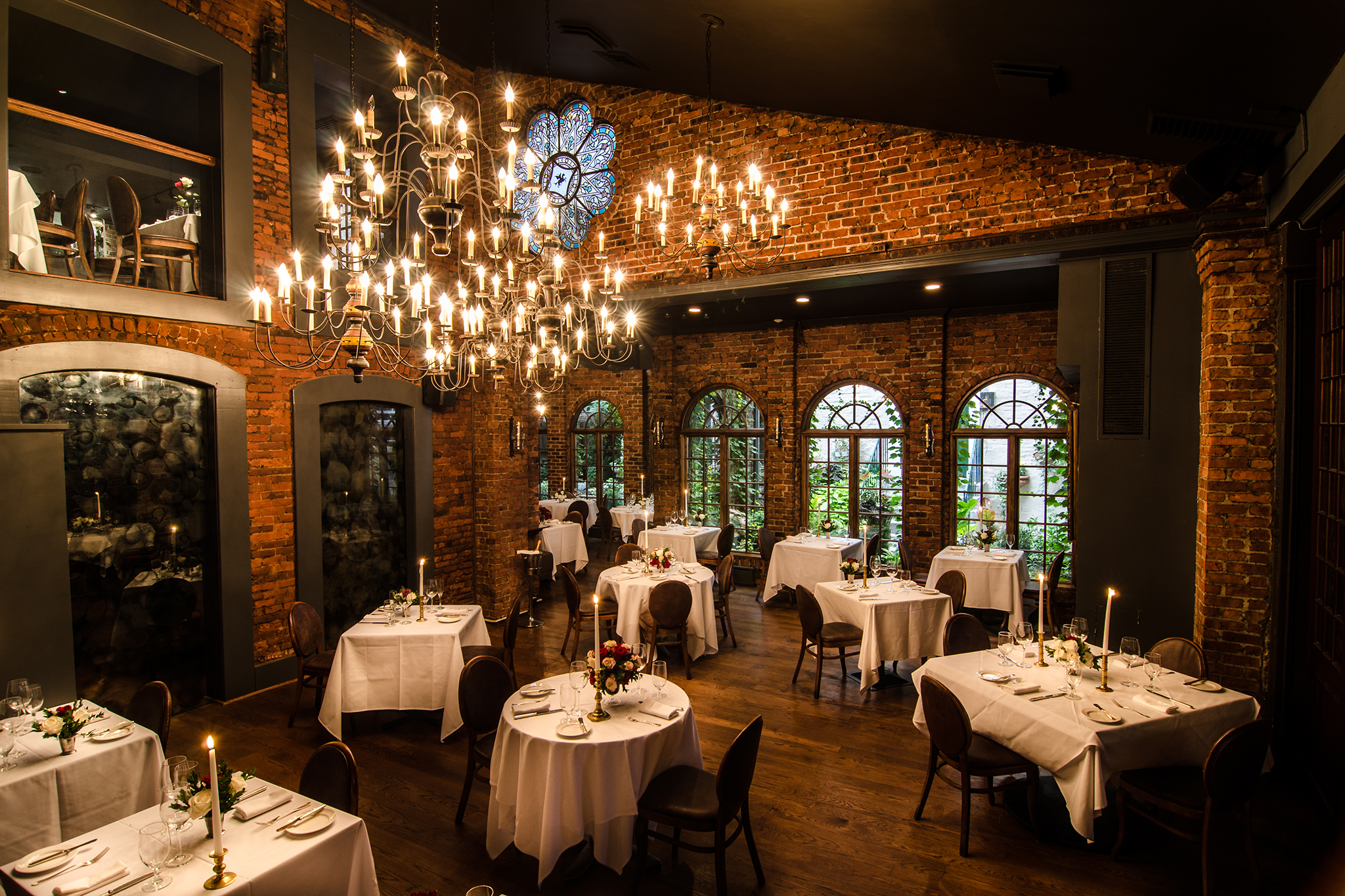 You've survived the and even made it past the honeymoon stage. So how do you keep the romance going? From long, dreamy brunches and cozy to romantic dinners and sultry holes in the wall, these are the most romantic restaurants in NYC to keep your lovey-dovey vibes going.
RECOMMENDED: Full guide to the Since 1973, this 1767 carriage house once owned by former vice president Aaron Burr has been serving candlelit seclusion long before Broadway's Hamilton musical arrived. Dinners range from a $95 vegetarian six-course chef's tasting to a seven-course version that features boneless rack of lamb, beef wellington, and lemon tarts.
It routinely makes lists of the most romantic restaurants not just in the city but in the world. And the private garden will make any dining couple feel like nobody else is in the room where it happens. More fantastical set piece than history-bound throwback. Like Torrisi and Parm, their earlier projects together, it's a hyped-up spin on a vanishing form, a restaurant where, bread sticks to bowties, everything looks, tastes and feels like much more of itself.
Under brass chandeliers, on navy walls, hangs brash modern art on old-school Italianate themes, curated, like the food here, by a downtown tastemaker (Julian Schnabel's son Vito). The waiters, a seasoned crew plucked from powerhouse dining rooms all throughout the city, have the smooth steps and cool banter of celluloid pros. But Zac Posen designed their wide-lapelled burgundy tuxes. Pro tip: head to the more sedate VIP inner sanctum. Many people consider the River Café to be the best restaurant in Brooklyn, and it is probably the most expensive.
The romantic waterside eatery, which could easily skate by on its gorgeous views of downtown Manhattan, has spawned a long roster of great chefs, including Charlie Palmer (Aureole), David Burke (davidburke & donatella) and Rick Moonen (RM, Oceana).
Current chef Brad Steelman lives up to his predecessors with two exquisite prix-fixe menus: three courses (you choose) or six courses (he chooses). Stellar dishes include fresh oysters with lemon pepper granita, rack of lamb or lobster specials.
For dessert, few can resist the chocolate marquise Brooklyn Bridge, shaped like its sparkling namesake. Guided through a noirish, concealed entrance through a mirrored maze of bamboo forest, you arrive at a private booth shielded by tatami shades.
An eight-course seasonal omakase runs $75, with an optional $50 sake pairing. The homemade desserts include grapefruit agar gelee and frozen black sesame mousse. The historic 1934 lounge atop 30 Rock has served breathtaking skyline views to storied families–the Astors, Kennedys, and Roosevelts–alongside old-world-meets-modern American fare from its perch 65 stories high.
Dress to the nines (jackets are required) for dinner and dancing to a live band, or upgrade your weekend with a decadent Sunday Brunch. Reservations are accepted up to six weeks in advance. The Loeb Central Park Boathouse is the pricier option here, although its crab cakes are more crab than cake. The sculptural salads and fresh fish and foul are sumptuous. But just outside, and just as scenic and lakeside, is the Express Café, where you can watch the Central Park Model Yacht Club fleet while noshing on $6.50 wraps, $5.50 burgers, or $3.50 hot dogs.
Not all romance is one-on-one. Some of the best spots in the city–like Patricia's, a Bronx beacon of hospitality–offers a chance to fall in love with the city as well, or even just the neighborhood. The hot antipasti include huge stuffed mushrooms, baked clams, luscious fried shrimp and eggplant rolled around ricotta cheese. The linguine arrabbiata has a spicy sauce with chunks of tender tomato.
As for dessert, watch out: The chocolate-polenta cake might cause you, quite involuntarily, to turn to the next table and blurt, "What are rents like around here?" Don't forget to order espresso—it comes with a self-serve bottle of anisette. Despite its far-flung locale near the end of the R train, Tanoreen has been a cult hit since it opened in 1998. Palestinian-born Rawia Bishara, who runs the restaurant with her daughter Jumana, prowls the dining room nightly, a maternal hostess generously handing out hugs, handshakes, and big party platters lavishly garnished in tomatoes, parsley and za'atar dust.
Her cooking—Middle Eastern soul food, you might call it—is based on tradition but not enslaved by it. While many dishes are just like what her mother made, plenty of others chart their own course.
Attention to detail distinguishes all of them. Tanoreen is a haven for the romance of love at first bite. The intimate, split-level townhouse possesses an ambience that gourmet-minded vegetarians crave but rarely encounter. Best is the food itself—fresh, creative and considerate (a separate gluten-free menu keeps celiacs sated).
Delectable dishes include the seitan piccata, crisp medallions in a light bath of lemon butter and capers, and the saffron-flavored paella, studded with seitan sausage and seasonal veggies. Service is knowledgeable and attentive, and the desserts—one layers chocolate and peanut butter mousse inside a dark chocolate shell—impossibly rich.
The best power lunch is sometimes an intimate afternoon tea for two with your special someone. The lavishly renovated Rotunda at the Pierre Hotel—a stone's throw from Tiffany's and Bergdorf's, just saying —offers perrine pink meringues and miniature strawberry shortcake, or heartier lobster tartine and a vintage Oscar Haimo's MacArthur cocktail made with an in-house 1940s recipe. This small German restaurant has a storied front bar, heaped in decorations that swing from "enchanted forest" to "late 90s music video." Dripping lights, blossomed wreaths, and tendrils of flora everywhere.
It's like being inside a fairy's flower crown. The portions are extremely generous; more sauerbraten, really, than anyone could (or perhaps should) eat. There are five different schnitzel offerings, but you can't go wrong in ordering the simple Wiener schnitzel. In the end, the zeitgeist is more Epcot Center than Bavaria and like the theme park it's a fun ride. For a morning–or a morning after–when romance can't wait until dinnertime, try the daily prix fixe brunch at this rustic-chic Greenpoint spot: $29 for an entree (including coconut and lime french toast, Amish fried chicken and pancakes, or baked brie in puff pastry with fennel salad) and unlimited mimosas.
Brittany-born owner Thierry Rochard's prototypical Gallic café nestled on a picturesque corner in the West Village still draws lines after 18 years.
The inevitable wait and tight space are worth enduring for the crisp, salty frites; the BYOB policy with no corkage fee adds to the bohemian allure. Staples like an earthy steak au poivre and cheesy, decadent croque-monsieur dominate the short menu, while others, like an entrée of "spicy chicken" smothered in a white wine sauce deviates from the Franco format.
It is said that the French invented love. And Augustine from Keith McNally (Balthazar, Cherche Midi) is mighty French. Decorated with floral murals and chandeliers, it's a rococo dream in the new Beekman Hotel restaurant. Enjoy the steak tartare or rotisserie chicken under the warm lights and weathered ceiling. New York's haute French dinosaurs (including Lutece, La Cote Basque and La Caravelle ) have basically gone extinct over the past few years.
La Grenouille, which opened in 1962, is the last survivor, a window to when stuffy waiters and chateaubriand were considered the highest form of dining. It doesn't get much snootier: jackets are required, cell phones and kids forbidden, and the electric red décor, full of mirrors and flowers and deco details, has the feel of a Mad Men power lunch.
That said, La Grenouille endures for a reason: the execution, whether tender, fried sweetbreads, buttery Dover sole with a mustard sauce or five types of pillowy soufflé, remains near flawless.
White brick columns, vaulted ceilings and chandeliers dripping with lamps—Le Coucou is a dramatic and gorgeous showstopper from restaurateur Stephen Starr (Buddakan, Morimoto) and chef Daniel Rose.
Share an intimate meal of celery-root remoulade, lobster américaine or rabbit cooked three ways over a tall candle set right in the middle of the table. The lobster mashed potatoes here are a great microcosm for the vibe of this fine-dining spot in Astoria: fancy but laidback, courteous but cheeky, grand but a little goofy too. Mondays have $4.95 sangrias and mimosas, and Wednesdays offer half-off wines. Saturday nights offer a DJ spinning until the kitchen closes at 2am. An upmarket shrine to the simple pleasures of the Italian coastline, the project is a gutsy gamble from a chef with bravado to burn.
Marea features an enormous menu, daunting prices and almost maniacal optimism (is there another spot in town offering Petrossian special reserve caviar at $385 an ounce?). The old-world charm of well-worn communal tables, dangling copper cookware and flickering lamps may help explain why a 23-year-old restaurant is still tough to get into on a Saturday night.
Seasonal produce shapes the menu of executive chef Roger Martinez. You'll have no trouble finding a wine to match your meal; Il Buco's list is one of the city's best. This elegant wood-bedecked space is still Midtown's answer to Downtown's enduringly fashionable Indochine. Ladies who lunch get their protein from the grilled lemongrass chicken breast, placed atop cold noodles with a peanut dressing. For the men who adorn them, there's grilled loin of pork, with mango-and-jicama salad in a passion-wasabi sauce.
And they share, shamelessly, the plump grilled shrimp, served on an impressive stump of sugarcane. At night, the blue neon sign serves as a homing beacon for seekers of the rattan-laden, second-floor bar, an elegant salon reminiscent of a Wong Kar-wai film. The dining room at Peasant, one of downtown's most celebrated Italian restaurants, is equal parts rustic and urban chic.
Cement floors and metal chairs give the place an unfinished edge, while the gaping brick-oven and lengthy wooden bar provide the telltale old-world notes. Dishes that emerge from the fire are particularly good. This includes gooey speck-wrapped bocconcini (mozzarella), which arrive at the table bubbly and molten. Choose the succulent proteins, like the fork-tender porchetta or gamey lamb with smooth polenta, over the disappointingly gummy gnocchi, dressed with an otherwise pleasant creamy rabbit ragù.
For days when afternoon tea is the perfect non-brunch break from breakfast, lunch, and dinner, the $25 service in the two-story European manor-style restaurant is a crowd-pleaser–minus the crowds. The three dining rooms serve as few as 12 or as much as 32. So even a full house feels intimate. Splurge an extra $10 for the champagne version.
WHERE TO EAT IN NEW YORK - Cheap Food You Eat With Your Hands
Best romantic restaurants in nyc on a budget
Rating: 6,7/10

1307

reviews